Create a Drawing Pack
Have a great drawing style and want to share it with the world?! Now you can with Trace Drawing Packs! Share "How to Draw" PDF guides, pen settings and configurations, example projects with annotations, stencil artwork, project files with unique paper backgrounds, custom color palettes, drawing and lettering templates and a ton of other tools for creating beautiful drawings in Morpholio Trace. Plus, this a great way to create a little passive income for yourself since you'll keep all of the revenue from your sales!
---
How to Create a Trace Drawing Pack
Learn how to create your Trace Drawing Pack in five easy steps below!
Step 1. Create a "How to Draw" PDF Guide
Using your unique style, create an overview PDF guide that offers tips to recreate your drawings including:
Morpholio Trace Pen Configurations
Your favorite Trace tools and tricks for making amazing drawings
A list of all the Morpholio Trace assets that are included in your Trace Drawing Pack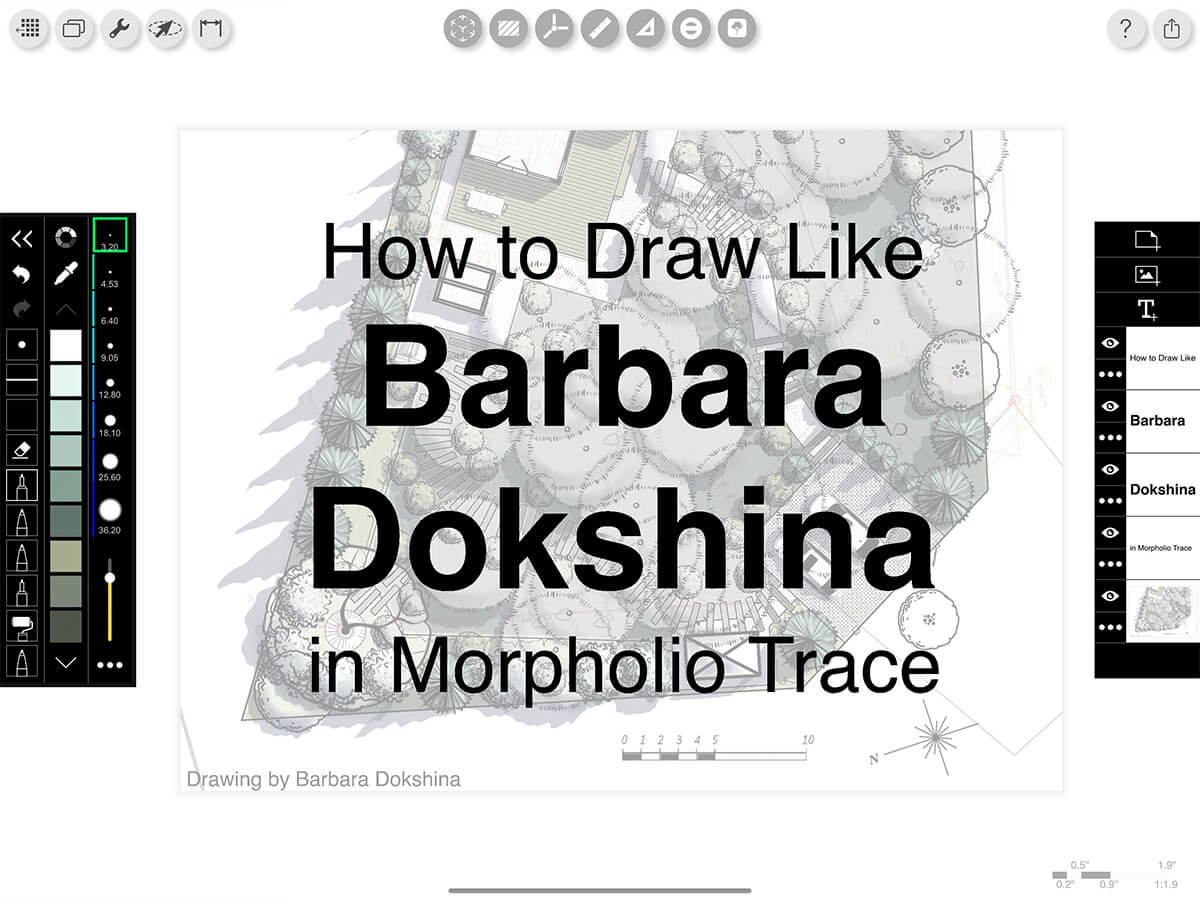 Step 2. Create Your Morpholio Trace Assets
Learn how to make all of the different assets that you can include in your Trace Drawing Pack. Remember, you don't need all of these items to create a pack. You could make smaller packs with just one or two of the items listed below — it's all what you want to make of it!
Configure Pen Settings
Create a screenshot of your pen setup for each pen in your pen toolbar. Also include a screenshot of your opacity and smoothness settings so your community will be able to perfectly recreate your pen toolbar set up!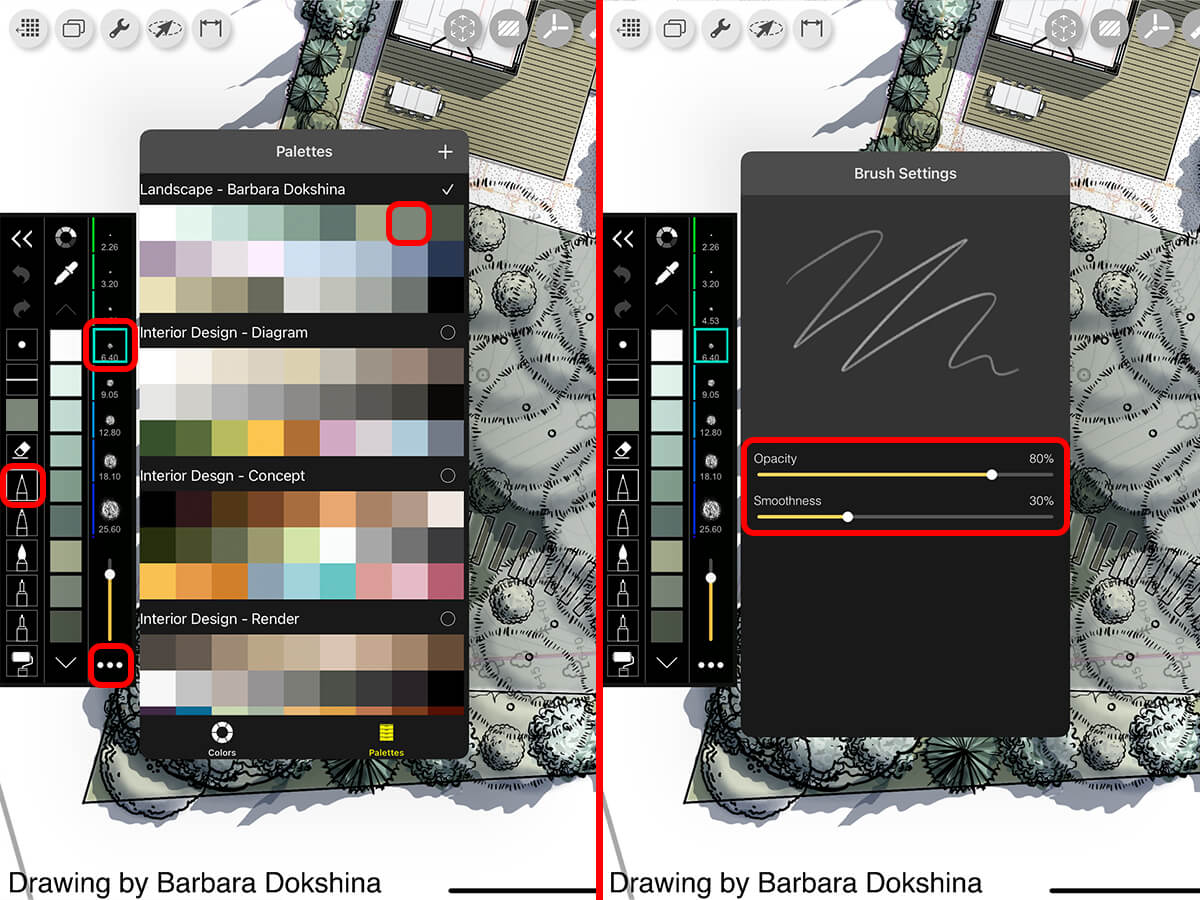 Projects: Examples, Templates, and Paper Backgrounds
Annotate your existing masterpieces with drawing tips to help people learn your drawing style. You can also create template files with title blocks, lettering underlays, or unique paper texture backgrounds to share.
Learn how to export projects here >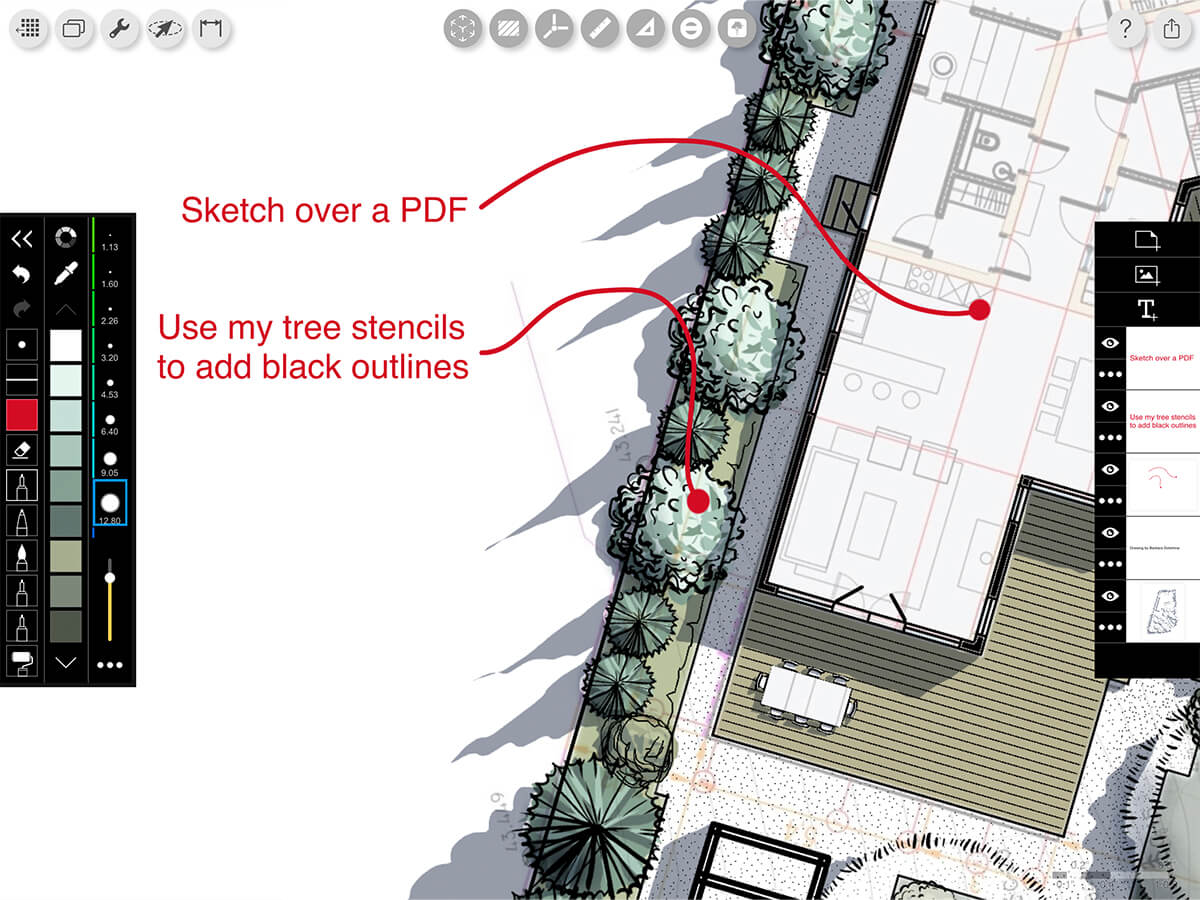 Export Color Palettes
You can create custom color palettes for any type of drawing or mood and export them to include in your Trace Drawing Pack.
Learn how to create and export color palettes here >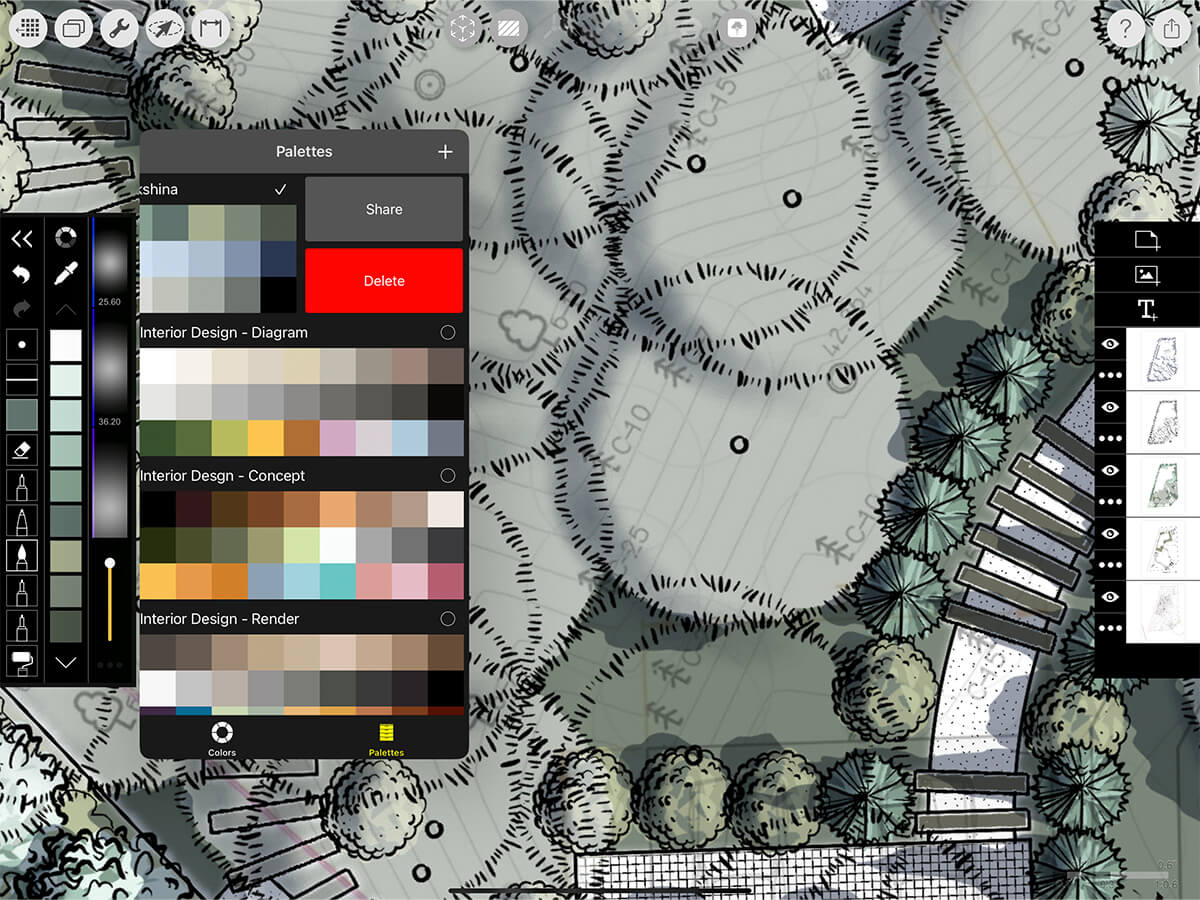 Export Stencil Artwork
Any image can be turned into a custom stencil! Our recommendation for your files is as follow:
One 2048px by 2048px JPG file per stencil
72ppi resolution
Keep artwork inside a 275px margin
Step 3. Zip Your Assets
Create a zip file with all of your assets inside.
Learn how to zip files for Mac here >
Learn how to zip files for Windows here >
Step 4. Sell Your Trace Drawing Pack!
Add your Trace Drawing Pack to your shop and set a price that feels right to you. Remember, you get to keep all of the revenue from your sales!
Step 5. Send Morpholio a Link
DM us on Instagram and share a link to your Trace Drawing Pack so we can include it in the Trace Marketplace so the entire Trace community will be able to access your pack!
Version: 5.4
About Morpholio Trace - Sketch Cad
Why Morpholio Trace for Architects, Landscape Architecture and Interior Designers?
Awarded Best Apps for architects, landscape architects, and interior designers, Trace is the dream sketch cad and architecture drawing software. Featured as both, the best app for iPad Pro and the best app for Apple Pencil, Trace combines the beauty and speed of sketching with the intelligence and precision of CAD. Whether you're drawing project concepts, sketching through schematic design and designing architectural details, or just drawing on-site visits through construction administration and making high-res PDF drawing set markups, Morpholio Trace is everything you need for your new favorite architect app, landscape design app, or interior design app all in one. Welcome to the new best drawing app for iPad Pro.
Morpholio Trace Ecosystem
Morpholio drawing apps are not only named as the best app for architects, best app for architecture, best app for interior design, best design app, best app for landscape architects, and best app for iPad Pro, but they also now work as a perfect complement to, and seamlessly with your favorite architectural software, architecture apps, cad software, cad app, and interior design software. This includes Autodesk AutoCad, TinkerCad, Revit, SketchUp, SketchUp Viewer, Rhino, Pinterest, Adobe Photoshop, Shapr3D, UMake, and many more. In addition, your Apple iPad Pro, iPhone, and Apple Pencil will never be more exciting to use as Morpholio's suite of drawing, design, and sketching apps become even more essential in your design process.