Overview
To start any interior design moodboard or any creative collage, you always need to set up your workspace, collect your inspiration images, swatches, and drawings. Morpholio Board, the best app for interior design helps you streamline this process and it all starts with the Board Toolbar.
---
How to Get Started with the Board Toolbar
All of your primary board tools are located in the Board Toolbar on the right side. This is where you can add images, swatches, web clippings, drawing, text, and more to your mood board!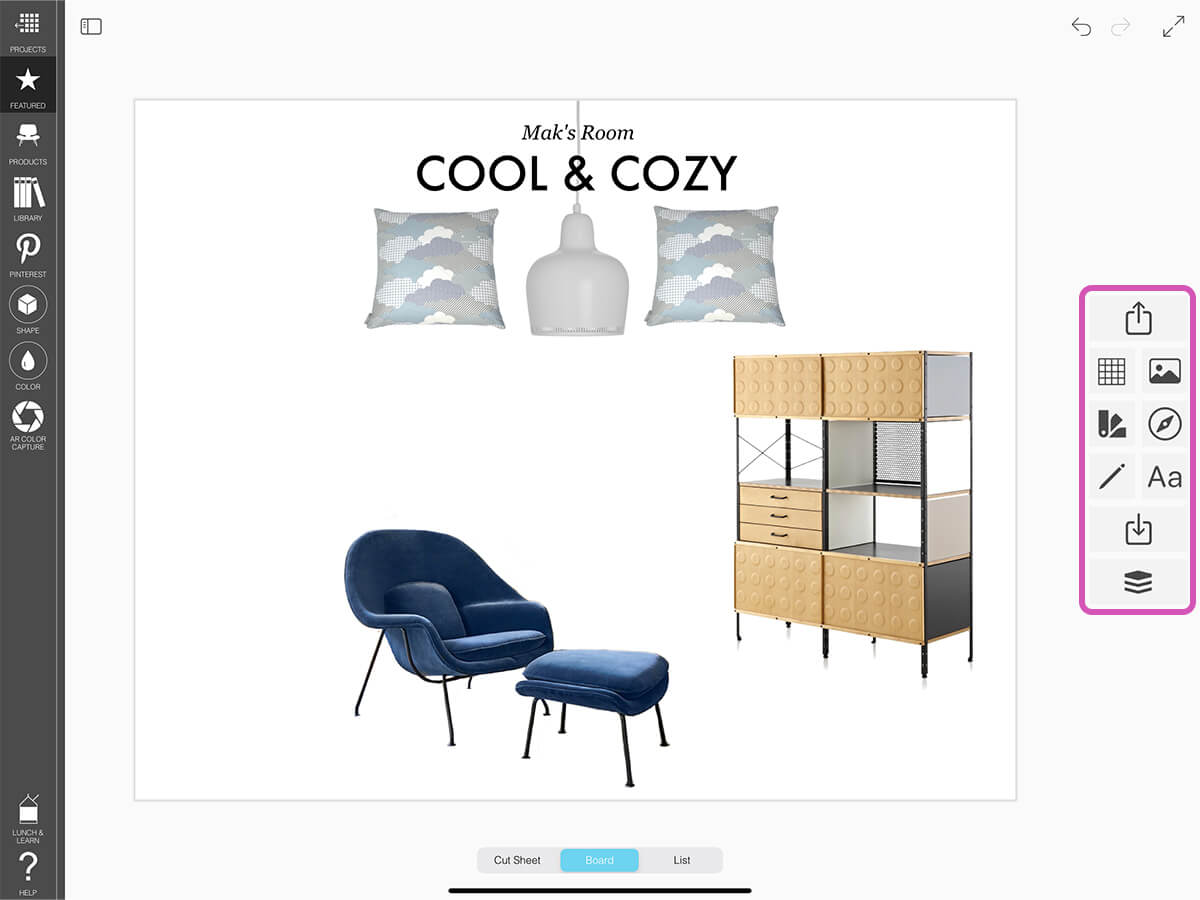 Export
Share your Board, Cut Sheets, or List.


Set Canvas
Set your canvas color, canvas size, and adjust your grid.
Add Images
Add images to your mood board form your library, camera, cloud drives, or the web. Additionally, you can add entourage to your board.
Swatch Maker
Add swatches to your board.
Web Clipper
Cut out smart images with links from websites to add to your board.


Draw
Add a quick line drawing to your board.
Add Text
Add a title or captions to your board.
Save
Manually save the current state of your board.
Layers
Manage and organize your image layers.
---
How To Video
Enjoy this how to video highlighting how to use your moodboard toolbar.
---
Version: 4.0
Why Morpholio Board for Architects and Interior Designers?
Morpholio Apps are not only the best apps for architects, interior designers, decorators and landscape designers, they also now work as a perfect compliment to, and seamlessly with, all of your favorite architectural and interior design software. This includes Autodesk AutoCad, Revit, SketchUp, Rhino, Pinterest, Adobe Photoshop, Shapr3D, UMake and many more. In addition, your Apple iPad, iPhone and Apple Pencil will never be more exciting to use as Morpholio's suite of drawing, design and mood board apps become even more essential in your design process.